I have just found out that my song "Carpe Diem" has been one of the tracks selected for Radio Mystic's Best of 2007 show! I want to thank those of you that listen to Radio Mystic and also thanks to Pete Havey.. program director! May 2008 totally rock for you!
Click on this link and it will take you to the show!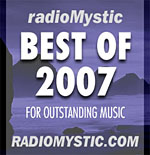 Happy New Year! May 2008 bring you Peace, Love and Blessings!
Namaste,
Kori